AT&T/New York University Connect Ability Challenge Draws 63 Submissions from Developers in 15 Countries
Public Voting opens today for the "Popular Choice" winner of the Connect Ability Challenge, a technology competition sponsored by AT&T and New York University's ABILITY Lab. In recognition of the 25th anniversary of the Americans with Disabilities act, the Connect Ability Tech Challenge looks to spur innovation of new technologies for people with disabilities. People can vote on the apps, wearable tech and other solutions that will help people with physical, social, emotional and cognitive disabilities. Sixty-three solutions from 16 states and 15 countries were submitted around the world.
Public Voting is open from July 1-10. People can view all the submissions at http://connectability.challengepost.com/submissions.
"It's been twenty-five years since the Americans with Disabilities Act passed. We've launched this challenge to further true accessibility through innovation," said Marissa Shorenstein, New York State President of AT&T. "The quantity and quality of submissions we received have been overwhelming. We're excited to let the public have a voice in identifying what they think are the most meaningful solutions."
"The recent advances in everyday technologies have opened new pathways to people with disabilities to get what they need in order to participate in the activities they want," said Anita Perr, Clinical Associate Professor at the NYU Steinhardt School of Culture, Education, and Human Development and a founding faculty member of the NYU ABILITY Lab. "The Connect Ability Challenge has the potential to eliminate obstacles for a great many people. It is very exciting to see the thoughtfulness and creativity in the entries to the Challenge. Picking winners is going to be very difficult."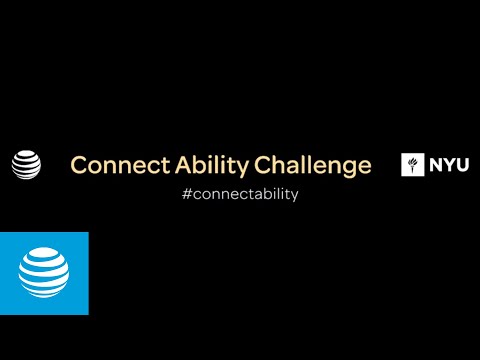 Developers designed solutions for people living sensory, mobility, social/emotional or communicative and cognitive disabilities. During the competition, they had the opportunity to interact with four "Exemplars", people living with the types of disabilities around which they were creating technology solutions for.
Solutions submitted include a variety of communicative and cognitive, sensory, social and emotional, mobility, and policy and societal technology. Among the 63 submissions, over two thirds are app solutions for iOS, Android, and mobile web. The hardware devices are also mostly hardware and app solutions. Over half of the submissions received are newly created tech solutions, coming from 15 countries across the world, two thirds of which are from developers based in 16 states across the United States.
"This challenge has brought global attention to our community. It's highlighted the progress we've made over the past 25 years and the challenges those living with disabilities still face," said Victor Calise, Commissioner of the Mayor's Office for People with Disabilities. "I'm very impressed with the concepts submitted. I can't wait to see how they can be put in the hands of those who will most benefit from them."
"RESNA members have been engaged from the outset of this challenge and we're impressed by the quantity and quality of projects," said Michael Brogioli, Executive Director of the Rehabilitation Engineering & Assistive Technology Society of North America (RESNA). "This underscores the interest in and need for assistive technology solutions. Now we are eager to hear what the public thinks."
A panel of experts from the engineering, technology and disability community will also be judging the submissions and helping to identify the winning solutions. The judges are:
Marissa Shorenstein – President of AT&T New York
Zach Suchin – Co-founder/CEO, Brand Knew
Anita Perr – Clinical Associate Professor, Department of Occupational Therapy, NYU and RESNA fellow
Jason DaSilva – Challenge Exemplar, Producer/Director of AXS Lab. Jason has multiple sclerosis.
Paul Kotler – Challenge Exemplar, Student, Blogger, Lecturer, Advocate. Paul has autism.
Gus Chalkias – Challenge Exemplar, Assistive Technology Specialist in Blindness, Career Counselor and College Student. Gus has a visual disability.
Xian Horn – Challenge Exemplar, Teacher, Speaker, Blogger, Beauty Advocate. Xian has cerebral palsy.
Jerry Weisman – Principal, Rehabilitation Technology Services/President Assistive Technology Solutions Inc. and RESNA fellow
Aaron W. Bangor – AT&T Lead Accessible Technology Architect
Paul Schwartz – Assistive Technology Services Manager, Stout Vocational Rehabilitation Institution (SVR), University of Wisconsin-Stout and RESNA fellow
Victor Calise – Commissioner of the New York City Mayor's Office for People with Disabilities
Winners of the AT&T NYU Connect Ability Challenge will be announced July 26, in New York City. Participants are competing for a total of $100,000 in prizes. Follow the latest news on Twitter using the hashtag #ConnectAbility.
*AT&T products and services are provided or offered by subsidiaries and affiliates of AT&T Inc. under the AT&T brand and not by AT&T Inc.