The Steinhardt School opened its 2013-14 education policy breakfast forum series with a panel called, "The Big Business of Testing in America."
Guest speakers William Reese, Carl F. Kaestle WARF Professor of Educational Policy Studies and History, University of Wisconsin-Madison and Matthew Chingos, a fellow of the Brookings Institution, Brown Center on Education Policy, spoke on the history of testing and its economic cost.
Reese, the author of Testing Wars in the Public Schools: A Forgotten History (Harvard University Press, 2013), offered an overview of testing from its roots as a controversial measure of student achievement in the 1800s to contemporary battles over scholastic standards.  He noted that historically testing has "privileged memorization over understanding."
Chingos discussed his report, "Standardized Testing and the Common Core Standards: You Get What You Pay For?"  Chingos' discussed the cost of student assessment options for the Core Common State Standards curriculum.  He noted that it is important to consider test quality in addition to cost when choosing an assessment.
Sean Corcoran, an associate professor of educational economics in Steinhardt's Department of Teaching and Learning, moderated the discussion.
(Photo top:  Speakers Sean Corcoran, Matthew Chingos, and William Reese, take questions from the audience. Credit:  Debra Weinstein.)
To learn more about Steinhardt's Education Policy Breakfast Series, visit our site.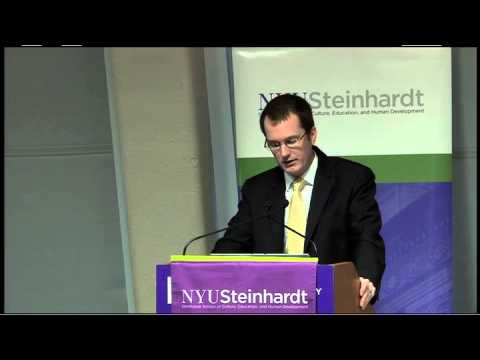 Follow the conversation on Twitter at #NYUEPBS
Read all the tweets generated by this event on Storify.