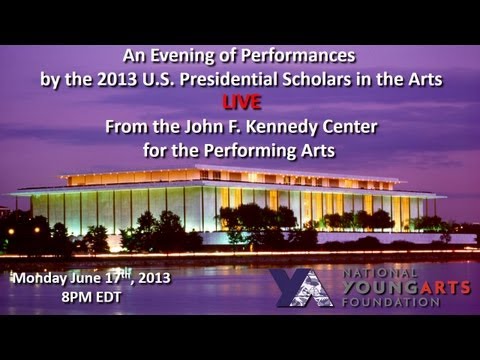 In June, the nation's capital celebrated students in the arts with an evening of performances by the 2013 U.S. Presidential Scholars in the Arts.  This year's performance was created and directed by Joe Salvatore, Steinhardt's clinical assistant professor of educational theatre.
Each year the Commission on Presidential Scholars, the U.S. Department of Education, and the National Young Arts Foundation produces "A Salute to the U. S. Presidential Scholars" at the John F. Kennedy Center for the Performing Arts in Washington, DC.  The Commission on Presidential Scholars names 141 presidential scholars to take part in the production. The group is comprised of seniors in high school who exhibit outstanding academic ability and engagement with their communities.
Salvatore, a playwright and director, worked with fourteen of the presidential arts scholars– twelve performing artists, a filmmaker, and an installation artist — to create this year's performance.  He worked with a designer to created a video montage from sections of Robert Frost's poem, 'The Road Not Taken,' from videos submitted by all students in the programs, and also commissioned the creation of an installation sculpture.  The sculpture, inscribed with ideas about the scholars' lives in 2023, features prominently in the performance's final moments.
Steinhardt educational theatre alumna, Sharon Counts (MA, 2005), was the program's assistant director. Adjunct faculty member Traci DiGesu, served as the production's costume coordinator.